Homepage: Cicada Information : Are the Periodical Cicadas coming to your town?
Are the Periodical Cicadas coming to your town?
The next periodical cicada emergence, Brood II, will happen in the this spring in Connecticut, Maryland, North Carolina, New Jersey, New York, Pennsylvania and Virginia -- in fact, it's already begun.
You might find a limited number of Brood VI straggers in GA, NC, and SC as well!
Are they coming to town?

Read this first:

This page is strictly dedicated to the Magicicada periodical cicadas (aka 17 and 13-year cicadas, and "locusts").
This is what they look like: Red eyes, orange wings, and black bodies

This does not cover annual cicada species (cicadas that arrive every year), or cicadas outside of the United States.
Magicicadas only emerge in the Spring and very early Summer (April-June). If you find cicadas in mid July to September, they are not Magicicadas.
If you're in the right area, but in the wrong year, you might find some "stragglers", which are Magicicada that emerge ahead of time (or after).

Figuring out if they're coming to your town:

Verify that they're coming to your state. Check the Magicicada Brood Chart on this page.
Check Cicada Brood Maps linked from this page to see if they're coming to your general area.
Check to see if they're coming to your neighborhood. Good sources include:

Check the Cicada Central Magicicada Database to see the counties where cicadas have appeared in the past.
Ask someone who lived there 17 (or 13) years before.
Old timers (hint: old timers usually call them locusts).
Check your local Library for old newspaper articles.
Check with a local college: contact the biology or agriculture departments.
Your local county and town parks department (parks and rec). Some county parks departments plan events around cicada emergences.

When will they emerge?

They will emerge sometime in the Spring, for sure.
They typically emerge once the soil 8 inches below the surface gets to 64 degrees Fahrenheit.
Cicadas in sunny areas of your yard will emerge before cicadas in shady areas.
Cicadas in the southern-most states will emerge before cicadas in northern states.
You can try the Cicada Emergence Formula as well.

They're coming, and I have baby trees!

Spray them off with a garden hose.
Foil around the trunk (to keep them from crawling up) (thanks Deborah).
Insect barrier tape.
Place netting over your precious ornamental trees: Try a landscaping supply place - where you bought the baby trees in the first place.
Bagpipes (no joke, it worked at my friend's wedding).
Don't use pesticide - we like all insects (especially pollinating bees).

They're coming, and they scare me!

Get a grip! They're only bugs.
Try a hat, an umbrella, a bee-keepers' outfit, a suit of armor...

They're coming, and they're going to ruin my wedding!

Consult the Brood Chart:

The Brood Maps on the site are about 100 years old; go to Magicicada.org for updated maps.

Magicicada Brood Chart
Brood
Life span ( 17 or 13 year )
Year
Where?
Maps
I
17
1944, 1961, 1978, 1995, 2012, 2029
TN, VA, WVA
Brood I map (Magicicada.org)
II
17
1945, 1962, 1979, 1996, 2013
CT, MD, NC, NJ, NY, PA, VA
Brood II map
Live Map!
III
17
1946, 1963, 1980, 1997, 2014
IA, IL, MO
Brood III map

IV
17
1947, 1964, 1981, 1998, 2015
IA, KS, MO, NE, OK, TX
Brood IV map

V
17
1948, 1965, 1982, 1999, 2016
OH, PA, VA, WVA
Brood V map

VI
17
1949, 1966, 1983, 2000, 2017
GA, NC, SC
Brood VI map (Magicicada.org)
VII
17
1950, 1967, 1984, 2001, 2018
NY
Brood VII map

VIII
17
1951, 1968, 1985, 2002, 2019
OH, PA, WVA
Brood VIII map

IX
17
1952, 1969, 1986, 2003, 2020
NC, VA, WVA
Brood IX map

X
17
1953, 1970, 1987, 2004, 2021
DE, GA, IL, IN, KY, MD, MI, NC, NJ, NY, OH, PA, TN, VA, WVA, Washington DC
Brood X map

XIII
17
1956, 1973, 1990, 2007, 2024
IA, IL, IN, MI, WI
Brood XIII map

XIV
17
1957, 1974, 1991, 2008, 2025
KY, GA, IN, MA, MD, NC, NJ, NY, OH, PA, TN, VA, WVA
Brood XIV map

XIX
13
1972, 1985, 1998, 2011, 2024
AL, AR, GA, IL, IN, KY, LA, MO, MS, NC, OK, SC, TN, VA
Brood XIX map

XXII
13
1962, 1975, 1988, 2001, 2014
LA, MS
Brood XXII map

XXIII
13
1963, 1976, 1989, 2002, 2015
AR, IL, IN, KY, LA, MO, MS, TN
Brood IV map (Magicicada.org)

Maps come from C.L. Marlatt's The periodical cicada: an account of Cicada septendecim, its natural enemies and the means of preventing its injury…

Note: Stragglers can emerge 1 or 4 years early or 1 or 4 years late. Don't be surprised if you see some periodical cicadas emerge earlier than planned this year.
Important: Magicicadas won't emerge everywhere in the states mentioned above. They might not exist in your town or neighborhood (particularly if trees were removed from your neighborhood). The key to seeing them, if they don't emerge in your neighborhood, is communication: networking with friends and family, checking the interactive maps on magicicada.org, checking sites like Twitter, Facebook and YouTube.
What should you look for before they emerge?
Look out for cicada chimneys (follow the link for a photo) also known as turrets. These are structures cicadas build out of soil, positioned above the spot where they will emerge.
Look for holes the diameter of an adult's finger near the root system of a tree. These are sure signs that cicadas will emerge in the area.
You might discover some cicada nymphs (follow the link for a photo) while turning over stones or when performing landscaping chores. They are a golden-brown color, with black coloration in the area behind their heads.
What do they look like when they emerge:
Here is a great video of Magicicada nymphs once they have emerged from the ground:
Magicicada cicada nymph mania from Cicada Mania on Vimeo.

This is a nymph crawing up a tree.
Once cicadas nymphs have emerged from the ground, they will try to find a tree, and then begin the process of exiting their old nymph skins (ecdysis), expanding their wings, and changing to their adult coloring. If you have the time, a flash light and a camera you can record this amazing transformation.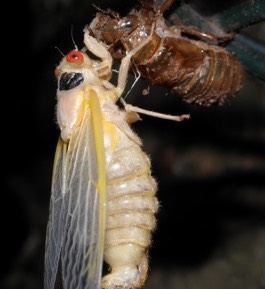 This is a teneral (soft) adult, having shed its nymphal skin.
How to tell the difference between the 17 year species:
Species:
M. septendecim
M. cassini
M. septendecula
Appearance of their abdomens:
M. septendecim have broad orange stripes with more orange than black on their abdomens.
See a photo.
M. cassini have black abdomens with virtually no orange at all.
See a photo.
M. septendecula have stripes that feature as much black as orange.
See a photo.
Other features:
M. septendecim also have an area of orange coloring between the eye and the wing:

Song:
M. septendecim song
(link goes to video)
Sounds like "Pharaoh, Pharaoh!"
M. cassini song
(link goes to video)
Note how it makes quick burst of sound, followed by some rapid clicks.
M. septendecula song
(link goes to video)
Note the "tick, tick, tick, tick" steady rhythm of its call.
Similar 13-Year Species
Magicicada tredecim & Magicicada neotredecim.
Magicicada tredecassini
Magicicada tredecula
Note: the 13 year species are almost identical to the 17 year species. For more information about the slight morphological and behavioral differences between the 17 year and 13 year Magicicada varieties, visit the Magicicada.org Species page.
Note: some folks call these cicadas "locusts", but they are not true locusts.
Why do Magicicadas wait 13 or 17 years and why do they emerge in such large numbers?
There are many theories why, but the primary reason could be that they're trying to avoid predators. Since they emerge only once every 13 or 17 years, no predator species can anticipate their emergence (except man), and emerging in large numbers ensures that at least some of them will survive to reproduce. See more about Cicadas and Prime Numbers. The long life-cycles could also help these cicadas avoid interbreeding with other Broods, as well as, avoid extinction from long stretches of fatally cold weather — more information about that can be found here.
More Magicicada Information