There are many interesting aspects of a periodical cicada emergence, including the length of time they spend underground, their massive numbers, their visual appearance, their amazing songs, and the variety of reactions people have to the cicadas. One of most amazing things you can witness during a cicada emergence is to watch cicadas emerge from the earth as nymphs, crawl up a tree, shed their skins, spread their wings and become adults.
Periodical cicadas will typically emerge over a period of several days. If you discover that cicadas have emerged in your yard by finding their skins (exuvia) or adult cicadas, chances are good more cicadas will emerge later that night. Filming a night-time cicada emergence is an excellent opportunity to use your HD Camcorders, Macro camera settings, and other technology you normally don't get to use.
Here's a guide to finding cicadas at night and ideas for filming them:
Be prepared: Get your flashlights ready. Read the manual for your camera to learn about its night time settings, HD settings, Macro settings, etc. Make sure your camera is charged.
Once the sun sets, head outside with your flashlight and camera. Carefully walk around beneath the branches of trees, shining your flashlight towards the ground. Cicada nymphs live along the entire root system of a tree, so they can emerge 15 or more feet away from the trunk. Watch this video of cicada nymphs to see what to look for. Listen: you can actually hear them walk through the grass and up the bark of a tree.
Once you've spotted nymphs, you can start filming. I usually aim my flashlight at them, and then let the flash in my camera light them up for the photo.
Once a nymph crawls up the tree, and finds a part of the tree that it likes, it will emerge from its skin and become an adult. The process of completely becoming an adult takes several hours, so this is a good opportunity to make a time-lapse movie.
Here is a series of stills from a movie Roy Troutman made of an eclosing Magicicada:
Step 1: The nymph grabs hold of a leaf
Nymphs will crawl around until they find a place to grab hold of with their tiny tarsal claws. Usually, they find part of a tree branch or leaf. Sometimes they find a car tire, a brick wall or a barbecue.
Step 2: The back of the cicada splits open, and the cicada pushes itself out.
The skin of the nymph splits open along the middle of its back, all the way up to its head. The cicada then pushes itself out back-first. You'll notice that the cicada is white in color with two black spots on its back. At this point the cicada's body is very soft — until a cicada's body has hardened, we call them teneral, which means soft or tender in Latin.
Step 3: With its abdomen anchored in the nymph skin, the cicada curls back, freeing its legs and spiracles.
The spiracles are the holes through which the cicada breathes. You'll notice fine white strands connected to the nymph skin — those were once connected to the spiracles.
Step 4: The cicada curls forward, grabs hold of its former skin, and frees its abdomen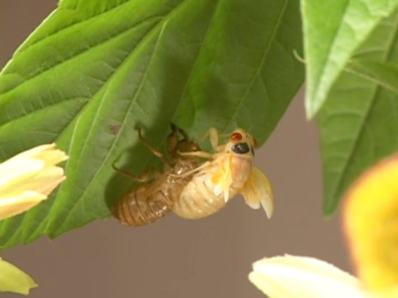 Step 5: The cicada crawls away from its old skin and prepares to inflate its wings
Step 6: The cicadas wings fill with fluid and expand
The cicada inflates its wings using haemolymph, a blood-like fluid also used to transport nutrients in a cicada's body.
Now, watch the entire video:
Magicicada nymph molting from Roy Troutman on Vimeo.
Step 7: The color of the cicada darkens and its body hardens
Once the cicada has expanded its wings, the cicadas will turn their final color and their bodies and wings will harden. Once the body and wings are sufficiently hardened, they are able to fly and sing.
The "finished product" looks like this:
Magicicada on my finger by Dan from Cicada Mania on Vimeo.
I hope you have the opportunity to watch a nighttime cicada emergence! It can be a lot of fun.