It's too early for Brood XXII cicadas to emerge in Louisiana and Mississippi, but it might be warm enough for them to start moving around underground. It will be warm enough in the coming weeks for them to start digging tunnels to the surface and building cicada "chimneys" above their holes.
What to look for:
1) Animals can hear the cicadas stirring underground, and will try to dig them up and eat them. Look for holes (about the size of a walnut or larger) made by animals digging for cicadas.
2) Look for cicadas under stones and slates. Some cicadas will burrow their way to the surface, but they hit a large stone or slate and can go no further.
If you find them in this situation, gently put the stone or slate back. They will usually find their way around the obstruction once the time is right.
One clue that a Magicicada nymph is not ready to emerge is their eyes are still white. Their eyes turn red/orange prior to emerging (a few retain a white/blue color).
3) Cicada holes are about the size of a dime. Cicada premptively dig holes to the surface and wait until the weather is nice enough for them to emerge. Sometimes you can see them down in the holes.
4) Cicadas form chimneys above their holes when the soil is moist or muddy. These chimneys might look like a simple golf ball sized dome or a structure over six inches tall.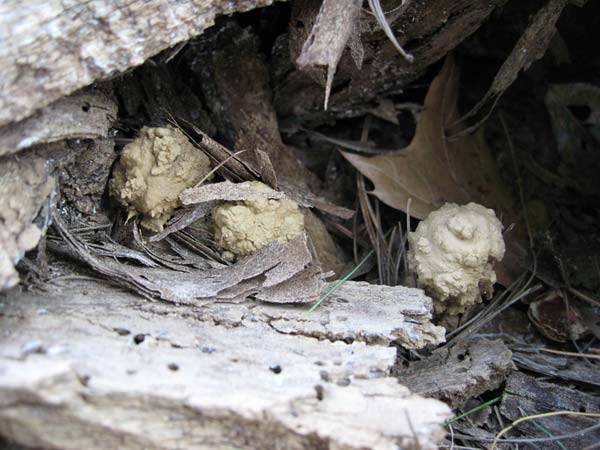 Cicadas typically won't emerge until the soil 8 inches below the ground reaches 65ºF, and just one day at that temperature might not be enough. Once the above ground temps hit the 80s, especially after a nice rain, the emergence should get going.