December 22, 2011
I made cicada Christmas lights using some LED USB Christmas lights, and some plastic cicada whistles from Australia.
CicadaMania Cicada Christmas Lights from Cicada Mania on Vimeo.
November 27, 2011
There are a few connections between cicadas and Christmas. Cicadas are typically active around Christmas in the Southern hemisphere. Cicadas are called Christmas Beetles in South Africa. There is also a cicada named the Kobonga Christmas Clanger in Australia (thx David Marshall and Kathy Hill ):
Since Christmas is the time of gift giving, cicada books make great gifts for cicada enthusiasts, young and old. Ebay.com typically has thousands of cicada items, including actual cicadas, as does Etsy. You can buy cicada specimens online as well. And of course there's a variety of Cicada Mania shirts and mugs to choose from.
I almost forgot the cicada skin Christmas wreath. :)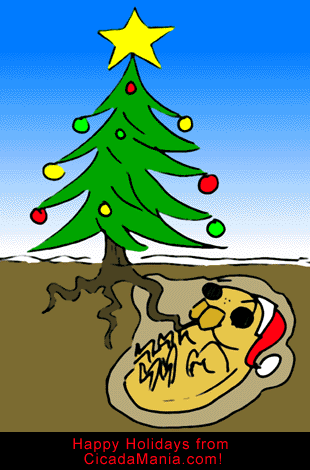 December 24, 2010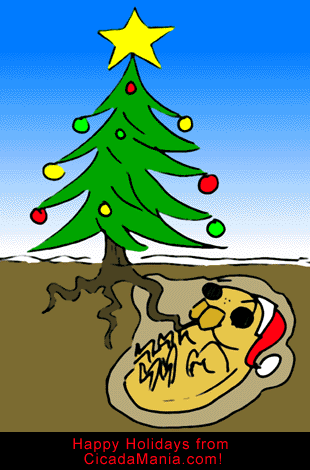 Christmas gives me a chance to use this image of a (cartoon) cicada nymph drinking the fluids of a Christmas tree.
November 23, 2009