January 28, 2016
I joined snapchat as "cicadamania". I probably will wait until the spring to snap anything interesting (and just cicada stuff).
July 13, 2015
20,000 or so years ago the earth was a colder place. Glaciers covered much of North America, including many states that currently are home to Magicicada, and other species of cicadas. There were glaciers in Wisconsin as recently as 9,500 years ago. The area below the glaciers were dominated by taiga, a landscape dominated by sappy evergreens and grasses (mastodon food). Florida was three times the size it was today.

Map from the NOAA.
What I'm curious about is this:
Where were the Magicicada 20-10 thousand years ago? Did they exist in a primordial form some place in the primordial woodlands of mega-Florida?
How did deciduous trees (oak, maple, ask, etc) spread northward, and how did the Magicicada spread with them?
Did the spread of deciduous trees northward into America play a part in the unusual life cycle of Magicicada, including the long lifecycle and 4 year accelerations?
Were the Neotibicen and Neocicada also living in mega-Florida or perhaps Mexico, and then spread northward as temperatures rose?
Were Okanagana able to exist in the colder, evergreen-dominated taiga of the time of the last glaciers?
For some reason this stuff intrigues me. Thank goodness my local library has a Jstor account.
January 20, 2015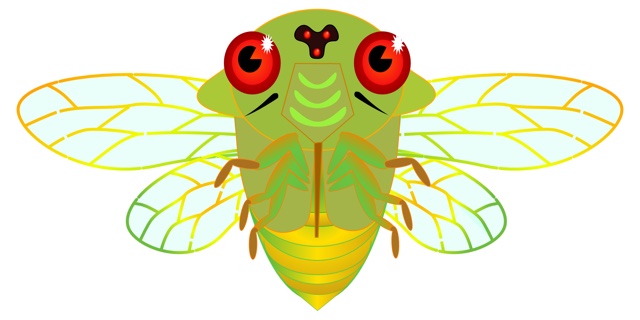 I felt bad about always using an illustration of North American cicadas, so I made a Green Grocer cicada for Australian fans.
Get this image on a shirt, mug or even a pillow case via CafePress (the mugs are the most affordable).
June 21, 2014
Here's something for Windows users: cicada cursors.
If you like to customize your PC, you can swap out your cursor with a cursor shaped like a cicada.
Download the cicada cursor it today (download and unzip).
Here's a tutorial for changing your cursor.
I have no idea if you can change the cursor on a Mac or mobile device.
Update! Try the new Magicicada cursor (.cur file in .zip file)!
Comments Off

on The Cicada Cursor is back!
October 10, 2013
Between now and the spring, I have to spend some time labeling the unlabeled species of cicadas on my site.
Various Tibicen Species
Comments Off

on Winter cicada projects
Older Posts »