Update #1 Dr. Gene Kritsky of Mount St. Joseph University reported the emergence of adult cassini in Cincinnati, and the discovery of more red-eyed nymphs ready to go. Visit his site for more updates. According to Gene "the cicadas are either the offspring of the Brood X accelerated cicadas from 2000 or it is an accelerated 2021 Brood X cicada. My guess is the later because it is from an area where I did not have reports of mating cicadas in 2000."
This year precursors to Brood X should emerge in limited numbers in D.C., Delaware, Georgia, Illinois, Indiana, Kentucky, Maryland, Michigan, Missouri, New Jersey, New York (Long Island), North Carolina, Ohio, Pennsylvania, South Carolina, Tennessee, Virginia, and West Virginia. Magicicada.org has the most up-to-date map from Brood X.
Don't panic! Yes, I'm talking to people in the afore mentioned states that do not like cicadas. Less that one percent of a Brood straggles. If you had 10,000 cicadas in your yard back in 2004, you can expect 4 or 5. 4 or 5 that are usually, quickly, eaten by birds.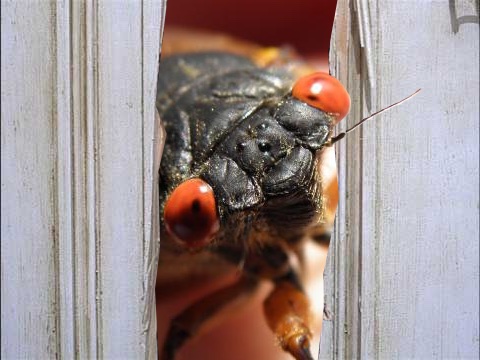 In North Carolina, South Carolina and Georgia, where Brood VI will emerge for certain this year, Brood X is just west of Brood VI. Brood X hugs the western border of North Carolina & Tennessee, and Brood VI is just east of that.
Dr. Gene Kritsky, in this recent article, is quoted as saying "[c]limate changes are behind the premature debut".
Brood VI compared to Brood X:


The data comes from Magicicada.org.
What are stragglers, and why do they straggler
Stragglers are periodical cicadas that emerge in years before or after the brood they belong to is expected to emerge. Typically 17-year periodical cicadas emerge 4 years early (see the probability chart). While stragglers never seem to produce enough offspring to produce future generations, straggling is something periodical cicadas do (there's a lot more to this, but I'm keeping it simple).
The weather is one thing that will trigger periodical cicadas to emerge early. An unusually hot fall, or hot and then cold and then hot spring, could add another "year" to what cicadas perceive as the procession of time, and so they "think", "okay it's been 17 years, time to emerge", when it has only been 13 years
Stragglers are not a new phenomenon. William T. Davis documented accelerations of cicada populations back in the 1800s, which was reported by C.L. Marlatt in the 1898 document The Periodical Cicada. An Account Of Cicada Septendecim, Its Natural Enemies And The Means Of Preventing Its Injury.
Mr. W. T. Davis records the occurrence of scattering individuals on Staten Island in both 1890 and 1892, neither of which is a Cicada year. These may have been of accelerated or retarded individuals, but possibly represent either remnants of broods or insignificant broods not hitherto recorded.
In the case of W. T. Davis's observations, Brood II would have emerged in 1894 in Staten Island, so 1890 would have been a 4-year straggler/processor/acceleration, and 1892 a rare 2-year acceleration.